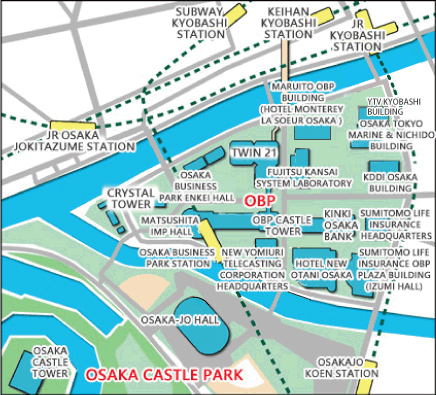 Added to the map provided by "Osaka Business Park Council"
Osaka Business Park (OBP) is an alluring business area located next to Osaka's emblematic Osaka Castle Park and surrounded by a rich natural environment of water and greenery and an urban network of office buildings, accommodation facilities, cultural centers, and commercial buildings.
Since 1986 when this area was first opened, numerous buildings serving as Osaka landmarks were erected, and other structures representative of the city at the time such as Crystal Tower, Twin 21, and Matsushita IMP Building were also established. In the years following 2000, the KDDI Osaka Dai-ni Building, Maruito OBP Building, Yomiuri Television's Headquarters and other large-scale buildings continued to be built.
The new Yomiuri TV office building was completed in January 2019, and the Connected Solutions Company (Panasonic Group) moved into the ytv Kyobashi Building, the former Yomiuri TV headquarters building, in 2020.

Overview of OBP

OBP as seen from Okawa River
The area here is lined with concert halls, hotels, television stations, data centers, and various laboratories and offices of major corporations. The number of employees working in the area is approximately 40,000 and the daytime population of OBP reaches around 100,000 people.
In January 2012, OBP was designated as Urban Renaissance Urgent Development Area and, during the 2011 fiscal year, a redevelopment project was started with the aim of creating a 'smart city' as part of the Ministry of the Environment's Sustainable Urban Redevelopment Promotion Model Program. As part of this measure, the private sector has been carrying out technical demonstrations (OBP-V2X Project) for the power supply systems which use the EV and PHV batteries owned by companies within OBP.
Within the Kyobashi area, where OBP is located, there are 6 stations operated by JR, Keihan Railways, and the Osaka Metro. With 4 lines intersecting here, including the JR Osaka Loop Line, which stops at Kyobashi Station – OBP's main point of access – this district offers a convenient environment with transfers available to the Keihan Railways and Osaka Metro Tsurumi-ryokuchi lines. Thanks to these features and OBP's rich natural environment of water, greenery, this area offers great potential for future development.